Ben Chasny & Rick Tomlinson - Waking of Insects
SAULT - Stronger
Marcos Valle - Previsão Do Tempo
Alison Cooper - The River
Rogê - Pra Vida
Eje Eje - Saved from the Jazz (Spring)
Charif Megarbane - Pas de Dialogue
Common Saints - Lovesong
BADBADNOTGOOD feat. Arthur Verocai - Love Proceeding (Macroblank Remix)
Vanishing Twin - Magician's Success
O'Flynn - 60 Rutledge
O'Flynn - Painted Wolf (K-LONE Remix)
Shiva feat. Jo Ann Harris - Never Gonna Give You Up (Dub)
Banjo or Freakout - Idiot Rain (Chad Valley Remix)
Kutiman - Fresh Haze
Luke Temple - Empty Promises
Ralph Weeks & The Means of Production - Got To Keep On Trying
Bonobo - Flutter
The Blue Nile - I Love This Life
Yelle - Raconte-toi (Yves Simon cover)
Eno & Hyde - Daddy's Car
Wire - Outdoor Miner
Macroblank - Bleak sorrows
Pigeon - Backslider
Kokoroko - Age of Ascent
Turiya Alice Coltrane & Devadip Carlos Santana - Angel Of Air / Angel O Water
4hero feat. Carina Andersson - Les Fleur
John Cale - Paris 1919
John Carroll Kirby - Oropendola
CV Vision - Tropical (Tune In)
Barry Walker Jr. - Ediacaran Moonrise
Golden Brown - Ash Emerald
Ned Doheny - A Love Of Your Own
Valerie Simpson - Silly Wasn't I
Daniel Ögren & Anna Ahnlund - Idag
Sam Wilkes & Jacob Mann - Siri, How Do I Know If I Have Commitment Issues?
The Lyman Woodard Organization - Joy Road
Wax Machine - Guardians of Eden
Tak Shindo - Mombasa Love Song
Mammal Hands - Nightingale
Admas - Tez Alegn Yetintu
Shabason & Krgovich - In The Middle Of The Day
Emma-Jean Thackray - Golden Green
Charles Watson - Beauty Contest (Tim Bruzon cover)
Wings - Cuff Link
Barbra Streisand - Guilty (feat. Barry Gibb)
The Isley Brothers - Work to Do
Brenda Russell - Way Back When
Carol Dionne - I'm In Love With You
Kashif - Help Yourself to My Love
D'Angelo - I Found My Smile Again
Sunbear - Let Love Flow for Peace
Penny Goodwin - Too Soon You're Old
Hiro Ama - Free Soul
Yu Su - Watermelon Woman - Dub
Sven Wunder - Hanami
Jaubi - Lahore State of Mind (Al Dobson Jr. Remix)
Space Ghost - Time Station
Eddie Chacon - Same Old Song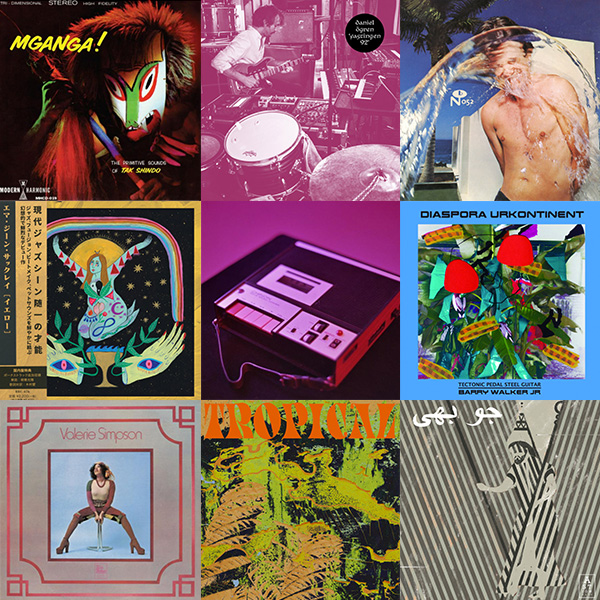 Barış Manço - İşte Hendek İşte Deve
Rosanna & Zélia - Baiao Da Luna
Broc Recordz - Summer Wind
Butcher Brown - Cusian
Tony Barreth & The "SJOB" - Farewell, Bye Bye
Flammer Dance Band - Uansett Underlag
Isabelle Antena - Laying On The Sofa (Mark Kamins Remix)
J-Zone - Standing On Mars
A Certain Ratio - Do The Du (Casse)
Vulfpeck - Sauna
Bosq & Felicia Douglass - We Always Talk
La Freak x Zamal Funk - Down at the disco
Kaleta & Super Yamba Band - Jibiti (Bosq Remix)
Flying Mojito Bros - Fadin' West Of LA
Lance Ferguson - Brazilian Rhyme
Jungle Fire - Together (feat. Jamie Allensworth)
Dennis Coffey - If You Can't Dance To This You Got No Business Having Feet
Shubostar - Éternite
Mystic Jungle - Don't Stop Your Love
Fresh Band - Come Back Lover
Nahawa Doumbia - Kungo Sogoni
Tinariwen - Kek Alghalm
Valérie Lagrange - Si Ma Chanson Pouvait
Karen Silver - Set Me Free (SLY Edit)
Xtasy - Eje Ka Jo
Aleke Kanonu - N'Gwode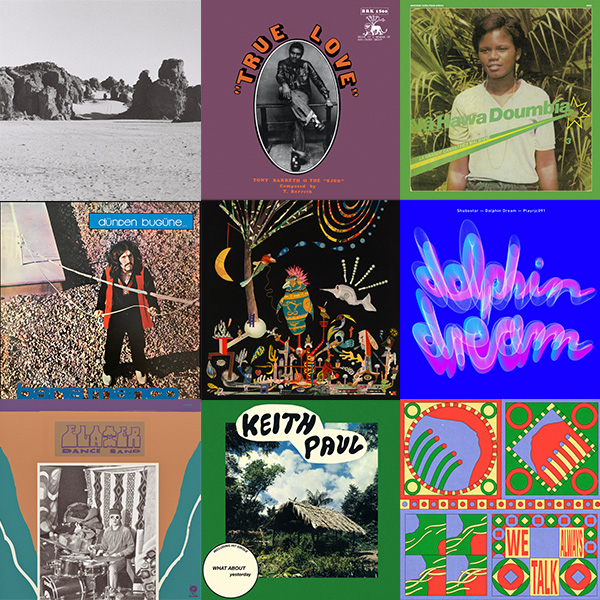 Surprise Chef - Bakery Pledge of Allegiance
Wayne Bonaparte - For Every Hour
Gene Williams - Don't Let Your Love Fade Away
Oscar Martos feat. Essy - Mi Vida
Wilbur Niles - Ja Ja
Charlene Knight - If You Pass Me By
Hannibal - Please Take A Chance On Me
Tinariwen - Tenere Den
The Polyversal Souls - Sad Nile
Melody Beecher - Movie Star
Kid Moxie & NINA - Electric Kiss
Colden & McCullers & Bound Sound - Tell Me How
Maxx Traxx - Don't Touch It!
Payfone & Kyd Nereida - I Feel You (Mudd Remix)
VeiraKrew - Sexy Lady (Instrumental)
Sipho Gumede - Uthinina
Analog Africa - Gaskya-Kace
Bali Gamelan Sound - Rejang Reong
Bacao Rhythm and Steel Band - Tropical Heat
Fruko y Sus Tesos - Cumbia Bacaná
Kuku Sebsibe - Yagere Wetat (My Countryman)
Maalem Mahmoud Gania - Shaba Kouria
Etran de L'Air - Toubouk Ine Chihoussay
The Free Music - Mathasebnish
El Khat - Ya Raiyat
Yalla Miku - Asmazate
Modest by default - 金色的汗水 (Intro)
Sababa 5 - Funk #1
Daniel Ögren - Annalena
Pierre Daven-Keller - Champ magnétique
Jaubi - Insia
The Ironsides - Changing light
Charlene Knight - If you pass me by
Romare - Quiet corners of my mind
Bright & Findlay - Slow dance (Jazz mix)
Coco and Ben - Good feelin'
East Coast Love Affair - Get down
The Altons - Float
Eddie Capone's Treatment - I won't give you up
Jembaa Groove & KOG - Sweet my ear
Charly Kingson - Nimele bolo
Mickey & The Soul Generation - We got to make a change
Carrie Cleveland - Make love to me
Jonny Benavidez - Slow down girl
Clarity - Turning over
Pete & Cheez & Shoestring - You and me
Jitwam - Brooklyn ballers
Joel Culpepper - Return
Starlight - Starlight
Super Djata Band - Yamba
Alhaji Waziri Oshomah - Iyuchele opomumhe
A.R.T. Wilson - Sun sign aries
Tstewart & Machinedrum - Isle of the blest
Kelly Lee Owens - More than a woman
Misha Panfilov Sound Combo - Together
Dougie Stu- Joy Ride (Jeff Parker Remix)
We Three Ltd. - Girl I'll Always Love You
Ronnie Walker - Really Really Love You
Menahan Street Band - There Was A Man
Orquestra e Côro Som Livre - Uma Canção a Mais
Dina Ögon - Mormor
Dur-Dur Band Int. - Duurka
Mighty Flames - Sweet Love
Del Jones' Postive Vibes - Vibe-ing Theme
Tommy McGee - Come On
Trevor Dandy - Is There Any Love?
R.L. Burnside - Jumper on the Line
Travis Biggs - Tibetian Serenity
Penny Goodwin - Too Soon You're Old
Eddie Chacon - Holy Hell
30/70 - ACCEPTANCE
Ezy Minus - On the Waves
Oldu O Zaman - Sigarası Yaldızlı
BADBADNOTGOOD feat. Arthur Verocai - Love Proceeding (Macroblank Remix)
BADBADNOTGOOD feat. Laraaji - Unfolding (Ron Trent Remix)
Glamour Hammer - Stay With Me
The James Family & Shoestring - We've Got It Made
Santaka - 555
Mereba - Black Truck
WAAN - Omi
Conic Rose - Goodbye
Eddie Ray & Joe King - Don't Take Your Love From Me
69 - Desire
Dargz - Lou's Tune feat. Moses Boyd
Silk Rhodes - Face 2 Face
Nayana Iz - Partner in crime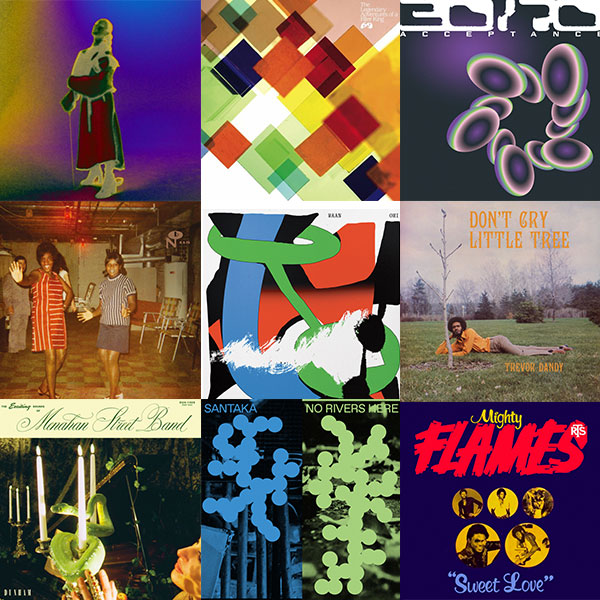 In Motion Collective - Hong sau
Krystal & Magic Touch - False alarm
Into New Dimensions - You just be you
Vusi Mahlasela, Norman Zulu & Jive Connection - Faceless people
Sessa - Que Lado Você Dorme
Mário Lúcio - Vale a pena tentar
Arun Ghosh - Fiveways
Jutra - Posthumanopolitan Express
Makaya McCraven - So ubuji
Super Djata Band - Konadou
Maxx Traxx - Don't touch it
TJ Johnson Band - I can make it good for you
Race N Rhythm - Space saver
Isabelle Antena - Blow the world away
Shy One - Scorpio sun
Mono Mondo - This is who we are (instrumental)
Moonchild - Too good
Thee Sacred Souls - Future lover
Zenizen - Es is (protocol)
Aili - Make me rich
Antena - Life is too short (New dance 12" mix)
Ca$h Bonus - Got me thinkin' tonight
Ashra - Sunrain
Casiopea - Eyes of the mind
Harvey Sutherland - Clarity
Tomorrow's People - Let's get down with the beat
Conclave - All that I need (Photay remix)
Athletic Progression - Canteen culture
Isaiah Rashad - Wat's wrong
Lee Clarke - Booties
Human Race - Human race
Quinteto Ternura - Baby
Dawn Of Midi - Io
Fatima Al Qadiri - Medieval femme
Vampire Slayer - Kid touch
Ohma - In essence
Nahawa Doumbia - Dan Té Dinyé La
Bembeya Jazz National - Petit Sékou
Ali Hassan Kuban - Mabruk
Docteur Nico and L'Orchestre African Fiesta - Suavilo
Bambino Prodigio - Under the beat
Nate Mercereau - I've got what I need
Macroblank - Untitled
Matt Finnegan - Completely sold out rarity
Badbadnotgood - Vices
Mindy Meng Wang & Tim Shiel - Sleeping tiger on the bund
Yussef Dayes - Raisins under the sun
Região Abissal - Feminina Mulher (Instrumental)
Schez - Blu
Skee Mask - Ozone
Yung Akó - In focus
Noa Silver - Kimchi (instrumental)
Teebs - Shells
Melody's Echo Chamber - Cross my heart
Johnny Harris - Footprints on the moon
Louis Cole & Sam Gendel - Bitches
Shirley Nanette - All of your life
Antares Flare - Bonsai jungle
The New Lucky Seven - Woodhead pt. 2
Yak - Balmora blue
Novidade - Voaria (House mix)
Heroes of limbo - Don't sweat the technique
Kabbala - Ashewo ara
Pure Warmth - Kutsu
Glenn Astro - Hydro city zone
Freeez - Flying high
Papaya Records Detroit - People of the world
The Emperor Machine & Bom Carrot - Chumcho, let's dance
The Gino Fontaine - Revnorev (Pete Herbert mix)
Side On - A magic version
State Of Grace - Touching the times (instrumental)
Makaya McCraven - High fives
Van Buren - Bronco queen pt. 2
Haircuts For Men - いくぶんまだ生きている
Sam Wilkes & Jacob Mann - Next to
Hello Meteor - Clouds floating low
Macroblank - ダヌベフロア
Parallels - Get in the mood
Yaw Evans - Only spirit
Al-Qasar - Sham system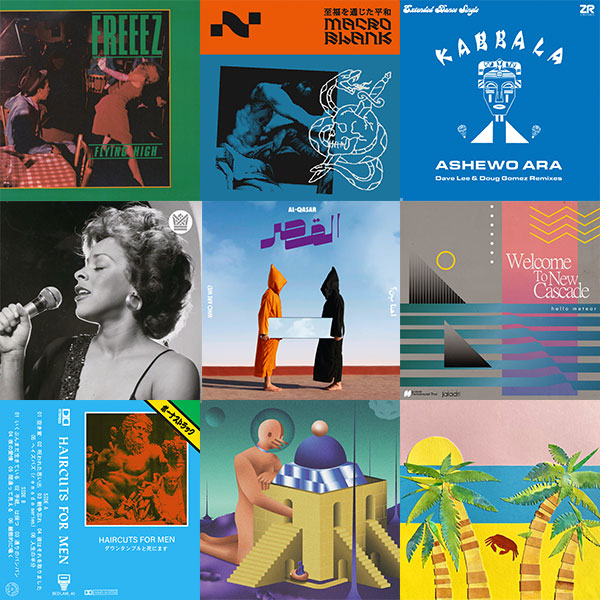 Elvin Spencer - Lift this hurt
Betty Wright - Mr Lucky
Pachyman - All night long
Sessa - Gostar do mundo
Alice Russell - Heartbreaker (Sefi Zisling Remake)
Sharpp - Hard
Jaye P. Morgan - Let's get together
Marxist Love Disco Ensemble - Brumaire
Madalitso Band - Ali ndi vuto
Nyamekye Junction - GMT
Onom Agemo & Ahmed Ag Kaedy - Medin
S H I R A N - Habibi inta
Naujawanan Bidar - Akram Yari
Alkibar Jr - Adouna
Sababa 5 feat. Shiran Tzfira - Ya Hiah
Iron Knowledge - African piano song
Orchestre Massako - Dibembi
Thomas Frempong - Mada meho so
Uncle Joe's Afri Beat - Eshe wo kon ho
Iyakuh & Jakare & J.Pool - Hikuri
Leroy & The Famous Rocking Soul Band - Just jiving around
The Echomen - Let's get together
The Movers - Kudala Sithandana
Son Rompe Pera - La piragua
The Defaulters - Disco dennis
Vince Mance Trio - Big boy
Emma-Jean Thackray - Our people (Cid Rim remix)
Chouk Bwa & The Angstromers - Vini wé m
Judah Warsky & Gilbert Cohen - Tout les temps Tout les temps
Lucius - Next to normal
Hot Chip - Eleanor
Rachika Nayar - The trembling of glass
Gigi Masin - Tears of clown
múm - I can't feel my hand any more, it's alright, sleep still
Otodojo - Replant
||||||||||||| - Why she is hiding in the other man's eyes
The Cleaners From Venus - Tukani (Monday is grey)
Child's View - For tomorrow

- - Pete Fowler Guest Mix - -

Barbara Morgenstern & Robert Lippok - Sommer
I am robot and proud - Winter at night
Lone - Jaded
Yann Tiersen - 11 5 18 25 5 7 21
Efterklang - Swarming
Sam Gendel - Lax tunnel
Absolutely Free - How to paint clouds (Scattered Clouds remix)
Moonfish - Mahi mahi

Green-House - Sunflower Dance
Pavel Milyakov & Yana Pavlova - Strong-willed
Sally Oldfield - Blue water
Frida - I see red
JR Thomas & The volcanos - Forever
Tammi Terrell - All I do is think about you


- - Elliott Mess Guest Mix - -

Boris Garbiner Happening - Breezin
The Ponderosa Twins Plus one - Bound
Space Ghost - Heaven sent
Penny Goodwin - Too soon you're old
Idrissa Soumaoro & L'eclipse de lija - Djama
Vaula - Joiwind
Prins THomas - Salto mortale
Alhousseini Anivolla & Girum Mezmur - Algher (Mathami remix)
The Range - Ricercar

Freeez - Southern freeez
Two Tons Of Fun - Just us
Hi-Gloss - You'll never know
The Gap Band - Big fun
Aurra - You and me tonight

Whitney Weiss Guest Mix
Janet Jackson a capella intro
Sheila E - Koo Koo (Remix)
Majorettes - Discotheque
Osibisa - Yo Luv Is Betta (Expansions NYC Dub)
Al-Dos Band - Don't Come Smiling Back
Marc Et Frank - Captain Coke
Ghisly Brown - Let's Talk About It
Ethel Agee, Preston Scarber, & Rev Dorosco Scarber - Traveling Home
mBtheLight - smarts
DJ Duke feat. Lee Smith, Jr. - Love Don't Come Easy (Unreleased Mix)
Clay Wilson - One Down
L - La Boîte A Musique
Maureen Mason - I'm Believing in Love Again
Sophisticated Ladies - This Ain't Really Love

T.S.Monk - Candidate for love
Jean Carn - Was that all it was (12" mix)
Ten City - That's the way love is (Underground mix)
David Joseph - You can't hide your love from me
Booker Newberry III - Love town
Kleeer - I love to dance
Raw Silk - Do it to the music


Mai Mai Mai - Fimmine fimmine
Batu - Atavism
Cid Rim - He who runs with the flock inevitably follows asses

- - Philip Battin Guest Mix - -

Man power - UIUAWAO
Fleck - Rough silk
Goosey - No no
Latmun - Just like
Hidden Spheres - Euan 92
Trujillo - Fruit punch
Daniel Steinberg - Silk
Love Deluxe - Goti
Slyvere - Conception
Joy Orbison - Pinky ring
Floating Points - Vocoder
Ben Lukas Boyssen - Clarion (Kiasmos mix)
Eugene Viscione - Love's hidden island


Donny Hathaway - I love the lord, he heard my cry
Bob James - Tappan zee
Surprise Chef - New ferrari
Koma Saxo - Erzeben koma
Park Hye Jin (feat. Nosaj Thing) - Clouds
The Zenmenn - Homage to a friendship
Robohands - Green

Lauren Bedal Guest Mix
Alif Tree - Forgotten places
Jazz Spastiks - Fresh Oranges (Pure Premium)
Otis Macdonald - Keep it Sexy
Oumou Sangaré - Yere Faga ft. Tony Allen
Sufjan Stevens - Revelation IV
Botany, Joseph Shabason - Rare Jubilation
Superposition - Quiet Voice
Dr. Lindsay Gibson interview (Press Send Podcast - Chinae Alexander)
Arushi Jain - Richer than Blood
Floating Points, Pharoah Sanders - Movement 2
Pharoah Sanders - Astral Traveling
Pharoah Sanders Interview
Kjell Anderson - Union Station
Ferro - Most of her Bread
Martyn - EF40
Martyn Interview
Malin Genie - Sense of Swing
Skee Mask - Shred
Skee Mask - Hal Conv

Karate Boogaloo - Look around
Tara Clerkin Trio - I know he will
Sarah Vaughn - Polka dots and moonbeams
Zeitgeist Freedom Energy Exchange - Prayer for peace
Kit Sebastian - Elegy for love
Lyra Pramuk & Eris Drew - Everything is beautiful and alive
Binker and Moses - Feed infinite


ADG7 - The dance of lions
Shay Hazan - Pink collar
Curtis Harding - Wednesday morning atonement
The Diasonics - Gurami
The Bambuseae Rhythm Section - Heliostepper
Magic Source - Genius of love
Ivan Ave - Gear (Instrumental)
Minoru Muraoka - The positive and the negative (Mr Bongo edit)
Mamas Gun - Looking for moses
Vulfpeck - 3 on E
Chris Lujan - Somewhere else
Ida Sands - Prophesize
Nel Oliver - You are my dream
Stephen Encinas - Lypso illusion
Soft As Snow - Holllow
Ajak Kwai - Red sands
Jembaa Groove - Amale
Frank Hatchett - Dance crazy
Condry Ziqubu - Phola baby
Anushka - Bad weather (Str4ta remix)
Yin Yin - One inch punch
Obed Ngobeni and the Kurhula Sisters - Xikhobva
Doinel - Saideira
Ill Considered - Loosed
Bosq of Whiskey Barons - More Heavy
Cu Lebre - Costa Verde
XL Middleton & Zackey Force Funk - Rug burns part two
Holy Hive - This Is My Story
The Paragons - When the Lights Are Low
Karin Krog - The Meaning Of Love
Derya Yıldırım & Grup Şimşek - The Trip
The Zenmenn - Flags Of The World
Dos Santos - A Shot in the Dark
Haha Sounds Collective - Silk Rock
Pyramid Project - Mangroves (Contours Edit)
Aurora Dee Raynes - Crazy That You Love
Jaimie Branch - theme 001
All Day Breakfast Cafe - What If Nile Rodgers and Fela Kuti Were Friends
Jackie McLean & Michael Carvin - De I Comahlee Ah
Oscar Jerome - Sun For Someone
Samm Henshaw - All Good
Georgia Anne Muldrow - Wu Punk
SAULT - Why Why Why Why Why
Ultra High Frequency - We're On The Right Track
Mouzon's Electric Band - Everybody Get Down
The New York Community Choir - I'll Keep My Light in My Window
Deodato - Whistle Bump
AHHH - Aubades
SSIEGE - Il Re Delle Mandorle
Kessler - Old Wives Tale
Mr. Mitch - In the Hills
Essaie Pas - Danse sociale
Mason Maynard - False Truths
Nick Hakim - QADIR
Joe Armon-Jones - Pray (Edit)
Cleo Sol - Promises
Bobby Hutcherson - NTU
Richard Horowitz - Eros Never Stops Dreaming
Mas Aya - Momento Presente
Yu Su - Watermelon Woman (Edit)
HOUSE OF YAHWEH - Glass Realty (feat. Lily Konigsberg)
Fishmans - 新しい人
Roger Doyle - Spring Is Coming With a Strawberry in the Mouth
CHAI - ACTION
Degrees Of Freedom - August Is an Angel
Sheryl Lee Ralph - In The Evening (Extended 12 Inch Version)
Psychic TV - Meet Every Situation Head On (Noise & Mista Luv Mix)
Talking Drums - Courage
Patrick Cowley - Surfside Sex
CZ Wang - Just Off Wave
La Compagnie Créole - A.I.E. (L.L. Club Mix)
Dauwd - Kindlinn
Andy Hart - Epsilon Girls
Eskuche - Passion (Extended Mix)
Gavin Russom - The Telstar File
T-F - Space Invaders Are Smoking Grass
House of Doors - Burmstar (Twin Mix)

Dezron Douglas, Brandee Younger - Gospel Trane
Johnnie Frierson - Have You Been Good to Yourself
Dwight Sykes - Walk With Me
Nala Sinephro - Space 2
Yola - Dancing Away In Tears
Neal Francis - Changes, Pts. 1 & 2
Peter Cat Recording Co. - Memory Box
Dawn Richard - Bussifame
Durand Jones & The Indications - Witchoo
Mykki Blanco, Blood Orange - It's Not My Choice
Caroline Rose - Jeannie Becomes A Mom
Caroline Rose - Feel The Way I Want
Lava La Rue - Magpie
The Diddys - Intergalactic Love Song
Vex Ruffin - Mabuhay Boy
Rainbow Team - Bite the Apple
Pearl Charles - Only for Tonight
Lou Hayter - Time Out of Mind
Lives Of Angels - Imperial Motors
Instructions - The Factory
Miho Hatori - Tokyo Story
Terr - Wings Of Time (Tornado Wallace Remix)
Panthera Krause - Birthday Club
Planningtorock - Jam Fam (Chanel Show Version)
Nana Yamato - Do You Wanna
Bruce Trail - Bridgework


J Dilla - Yesterday
Seckou Keita - Future Strings in E
Glass Beams - Mirage
The Soul Brothers Six - Some kind of Wonderful
Surprise Chef - All News Is Good News
SAULT - Son Shine
David Darling & The Wulu Bunun - Lugu Lugu Kan-lbi
Soft Focus - Elsewhere
Bastien Keb - Flowers
Origamibiro - Attract/Repel
Prince - Colors
Leon Vynehall - Movements (Chapter III)
Club Kuru - Giving in
sir Was - Revoke
Alain Goraguer - Sour Soul
Quantic - Theme from Selva
Lambchop - Give Me Your Love
Jab - 5,6,7,8
Jaubi - Zari
Sam Evian - Time to Melt
Lars Bartkuhn - June 26th
Sunda Arc - Hymn
Rebecca Vasmant - Jewels of Thought
William Stuckey - The First Time
Jinjé - Cinétique (Edit)
Metronomy - Everything Goes My Way (Anna Prior Remix)
Tech Support - Euphrates (System Olympia Remix)
Ross from Friends - The Daisy
Sleep Over - Romantic Streams


Florence Adooni - Mam Pelela Sulure
D'Angelo - Sugah Daddy
Tune-Yards - hypnotized
Madlib - Road Of The Lonely Ones
Womack & Womack - Drive (First Gear)
Heshoo Beshoo Group - Emakhaya
Anthony Joseph - Maka Dimweh
Wau Wau Collectif - Yaral Sa Doom
Chuck Senrick - Don't Be so Nice
Sufjan Stevens & Angelo De Augustine - Back To Oz
Risco Connection - Ain't No Stopping Us Now
Gábor Szabó - Keep Smilin'
Ronald Langestraat - I'm ready for dancing
Talaboman - Safe Changes
Prefab Sprout - Bonny
Boz Scaggs - JoJo
Bjørn Torske & Prins Thomas - Arthur
Ishi vu - This is your Life
Sfire - Sfire 1
Roger Webb - Flying Objects
Goya - House At The Sea - Psychemagik Edit
Donny Benet - Beneath The Sheets


King Tubby - King Tubby Meets Rockers Uptown
Bob Marley & The Wailers - Waiting In Vain
Owen Gray - Give me a little sign
Dennis Brown - Wichita Lineman
Odyssey - Our lives are shaped by what we love
MFSB - Mysteries of the world
Supreme Jubilees - It'll all be over
Boz Scaggs - We were always sweethearts
Terry Callier - Dancing girl
GENTS - Young again
HNNY - Montana
O'Flynn - Talia
Nu Genea - Marechiá
Roger Rönning - Cecilia (Edit)
Dundundun - Dun in outer space (Ishmael Ensemble remix)
Helado Negro - Gemini and Leo (Edit)
Minnie Riperton - Les Fleurs
Powel - Sunrise over Melmac
Guy One - So La Ma La
Patrice Rushen - I was tired of being alone


Charlotte Adigéry - 1618
Lafawndah - You, at the end
Ali Hassan Kuban - Mabruk
Zazou - Bikaye Nostalgie
GABO -Co
Zohra - Badala Zamana
Najib Alhoush - Ya Aen Daly
Senay - Dalkavuk (Baris K edit)
Steve Watson - Born to boogie
Bosmic Otim - Bandera pa kaka
SunPalace - Rude movements (Moodymann remix)
Daniel Monaco - Tu sei pazza (Whodamanny remix)
Silky Vincent Group - Dance
Delvon Lamarr Organ Trio - Fo sho
Adaye - Turn it up
Noel Williams - Shoot from the hip
Natural Wild - Hot and sexable
Atsou - Sleepwalk town
Alma Negra - Dakar disco
Ethimm - Lies
Kiwi - Hello echo
Frederik - In my strutt
A/P - Terrace fever



Monophonics & Kelly Finnegan - Get the gold
Maulawi - Root in 7/4 plus
Tapes - Aquarium trousers
Lyman Woodard Organization - Joy Road
Ezra Collective - Pure shade
Dundundun - Dun in outer space
Smandem - Caption this
Lifted - Cushion beat
Otis Sandsjö - Tremendoce
Lord & Dego - Beee side inside
Dego - The negative positive
Kate NV - Plans
Hoodoo Fushimi - li Yomesan
Captain Moses - Fly cherry fly
Harvey & The Phenomenals - Soul & sunshine
Powerman feat. Arthur Russell - Lost Tribe
Panache! - Every brother ain't a brother
Orgone - It's my thing
Altin Gün - Tatli diller güler yüze
Southern Energy Ensemble - See funk
Chris McGregor's Brotherhood Of Breath - Mra
Black Market Brass - Maraka
The Winston Brothers - Winston theme
Banda Maje - Living disco club
Alba & The Mighty Lions - Matemática
Oneness of Juju - The connection
Grant Green - Ain't it funky now

Tony Esposito - Pagaia
TootArd - Moonlight
Dan Kye - Rainbow Road
Laetitia Sadier - Un soir, un chien
Tom Sochas - Fsat
Joe Vitale - Step on you
New World - Enough!
Bixiga 70 - Tema di malaika
Zotobré - Lagen
Oro - Sasá
The Pearls - Groovy beat (Jura soundsystem edit)
Orlando Julius - Disco hi-life
Park Hye Jin - I don't care
Sofia Kourtesis - By your side
Kornél Kovács - Zero feel
Jenny Hval - Kingsize (Kelly Lee Owens remix)
Koraal - Vuurduin
Kcik 11 - Kcik 11
Mystic Bill - U won't C me
Pacific Coliseum - Ocean City (Pool Boy Remix)
Jovonn - Pianos of gold
Schatrax - Keep on loving
Round One - I'm your brother

Taeko Onuki - Amico, sei felice?
FM Skyline - Lost city
Fontaines D.C. - A Hero's Death (Soulwax Remix)
The Fat White Family - Touch The Leather
A Beat Disciple - William, Jack & Allen (leggere i beat nel parco)
Dauwd - Idris
Hammer - Marble Arch
Benedek - Mr. Goods
Octo Octa - Goddess Calling
T & P, Tim Sweeney and Lauer - Hail Falls (Hammer Remix)
Ardalan - OSCI (Kyle Watson Remix)
Pearson Sound - Alien Mode
Goran Kajfes Subtropic Arkestra - Le Monde Avait 5 Ans
Ronald Langestraat - In the middle of the night
Dorian Concept - Draft Culture
Ge-ology - Stomp Your Feet (Ge-ology Re-Flip)
Adam Ratner - Into The Wave
Little Ann - Deep Shadows
Jeff Parker - Max Brown
Shintaro Quintet - Evolution
Vincent - Only A Dream
Dream Death - The New Deserts of Kansas
Tokoro 23 - Sway Sway
TOMAGA - INTIMATE IMMENSITY
Lord Of The Isles - Inheritance (feat. Ellen Renton)

Emmanuelle Parrenin - L'Echarpe De Soie
Emmanuelle Parrenin - Plume Blanche, Plume Noire
Madlib - Latino Negro
Virginia Astley - A Summer Long Since Passed
Jesse Futerman Ft. Beverly Glenn-Copeland - Luckey
Azmari - Azalai
El Michels Affair - Murkit Gem
The Notwist - Into The Ice Age (feat. Angel Bat Dawid)
Monophonics - Chances
William Stuckey - Just Around the Corner
Crystal Winds - Love Ain't Easy, Pt. 1
Star Lovers - Asem Da Ye So
Sex Judas feat. Ricky - Pope Naked The First
Milkblood - Boiler room
Tristan Arp - Slip
Document Swell - Paint it Right
Llewellyn - Falling Apart
Panthera Krause - Birthday Club (Theo Kottis Remix)
Jex Opolis - Jan's Hammer
Kornél Kovács - Dance... While The Record Spins
Gerd Janson & Jacques Renault - Movin' Kinda Screwy
Kayroy feat. Miela - Identification Unknown
Ultraflex - Never Forget My Baby
Felipe Gordon - Momma, It's A Long Journey
Tune-Yards - Heart Attack (Sylvan Esso Remix)

MF Doom - Ballskin
Bjork - I miss you (Dobie's Rub Sunshine mix)
Gidge - New light
Fuga Ronto - L'Uomo invisible
Maximum Joy - Stretch
Stereolab - Lo boob oscillator
Ted Hawkins - Sorry you're sick
Brainstory - Peter Pan
Jerry Paper - Cholla
Video Age - Shadow on the wall
Jessy Lanza - Lick in heaven
Mid-Air Thief - Ahhh, these chains!
Joy Orbison - Burn
Pender Street Steppers - Our time
Electronic - Getting away with it (Vocal remix)
Mall Grab - Room full of Rothko
Peaking Lights - Walking with you
Teaspoon Ndelu - Sputla
Evans Pyramid - No I won't
Wajatta - Don't let get you down
79.5 Sisters - Sisters unnamed
Wax Machine - Extralude (Wyndham Earl's remix)
Nicole Willis - I call your name
Judy Pollak - Fascinating
M'Bamina - N'Zoumba

Tafi & Green Door Allstars - Diloeshutubui
Los Darts - Despertar
George E Johnson - Wake me up
Jake Najor & The Moment Of Truth - High costa living
Shirley Wahls - Tell the truth
Living Color - Plastic people
Pamoja - Oooh baby
The Sylvers - Only one can win
The Mandatory Eight - Soul fanfare
Jean Wells - Somebody's been loving you but it ain't been me (John Morales mix)
Makers - Don't challenge me
JR Thomas and The Volcanos - Forever
Shahid Wheeler - Just one dance before you go
Ghisly Brown - Let's talk about it
Julie Coker - Gossiper scandal monger
Pablo Ruiz - Manteca (Lego re-edit)
Gratitude - We are here to party
Free Youth - We can move
Chicco - I need some money
Ikebe - Shakedown Assassin
Hysteric - My man
PVA - Talks (Mura Masa remix)
- - I mixed a bunch of tracks here and forgot what they were - -
XYR - Lost city

Bjorn Meyer - Provenance
Oliver Coates - Caregiver part 4
Colin Benders - Outside
Blinkhorn - Montgomery Parks
Hinako Omori - Teleport
Musica Esporadica - I forgot the shirts
Ksiezyc - Klepana
HOME - Resonance
Gila - Pacifico entrancer
Hector Plimmer - Tapeloop (Kid Kanevil remix)
Dazion - Yu go bah
Mieux - Params
Rheinzand - Porque (Scorpio Twins remix)
Vanessa Worm - Heaven to hell (Eden Burns remix)
Roland Tings - First wave
Aksel & Aino - Fading Pictures
Locussolus - Next to you (Marcy Rising edit)
Snax - No dancing (Khans no new york remix)
Stinger J - Pretty face
Jac the Disco - Hot like the sun (Kiwi remix)
Sleep D - King tide
Caberet Voltaire - The power (of their knowledge)
PVA - Talks (Mura Masa remix)
Overmono - Everything u need

Donna Summer - State of independence
Tina Turner - I can't stand the rain
Peaking Lights - Conga blue
Benny Sings - Summerlude
TOPS - Way to be loved
Richenel - Autumn
Barbara Mason - Darling come back home
Plustwo - Melody
Jago - I'm going to go
Nami Shimada - Sunshower
Pink Rhythm - More and more
Manuel Darquart - Birds of paradiso
Jayda G - Both os us
Brijean - Moody
Holy Wave - Schmetterling
Lone - Airglow fires
Bicep - Apricots
Passarani - Wonky wonky wonky
Bobby Thurston - You got what it takes
Senyaka - Don't judge me bad
Nation of Language - The wall and I
Helado Negro - Running
King Biscuit Time - I love you
The Cleaners From Venus - Corridor of dreams
The Flaming Lips - Race for the prize
Gloria Jay - Know What You Want
Phoenix - Segregation
Marc Chantereau, Pierre-Alain Dahan & Slim Pezino - Viva el disco
M'Bamina - Wendo
Bro. Valentino - Stay up Zimbabwe
Octo Champ - Lacuna
Christy Essien - You Can't Change a Man (Original Mix)
The Live Band - A Chance For Hope (Original Mix)
Garfield Fleming - Don't Send Me Away
Arian - Luduj sa mnom
Boncana Mał ga - Koyma Hondo (Original Mix)
Benita - Time for a change
C. Da Afro - Love Experience (Original Mix)
sarasara - Fire
Gibson Brothers - Ooh What A Life (Gerd Janson & Shan Edit)
VibeSquad - About Face
Esa & Mervin Granger - Mvk (Original Mix)
Roy Of The Ravers - Emotinium
Bullion - Blue Pedro
Anoraak - Outcome
Sasac - Boot Man
Alyth McCormack - Dheannain súgradh



The last one! Except it wasn't...
Khaled Kurbeh & Raman Khalaf Ensemble - Al Baseet (Original Mix)
Alemayehu Eshete - Temar Ledje
Unknown - 2 abunawas
Yishak Banjaw - Libey Ma'aduley
Derya Yildirim & Grup Simsek - 3,2,2,3
Cuneyt Sepetci - Osman Aga
Jimmy Solanke & The Junkers - Eje Ka Jo
Hamad Kalkaba and The Golden Sounds - Touflé
Orchestra Baobab - Natalia
Sory Bamba - Yayoroba
Vincent Ahehehinnou - Best Woman
Demos Deniran & His Dynamic Africa Rhythmers - Festac (Ariya)
El Em Fanaja & Le Jam Star - Avi Ya Ma Do Gbê Ho
Unknown - Kopie
Orchestre Black Dragons de Porto-Novo - Amon Mi Keledje
Unknown - Kiasse Workan Giba
Demos Deniran & The Luko Resurgento - Agidi Malaja
Sunsum Band - Susuka
Prince Khonjo 99 with Midzi Heritage Sound - Mambo Poa
Super Doeths - We Got To Dance
Umoja - 707
Dur-Dur Band - llawad Cashaqa
Super Sounds Namba - Call On Me

Back to the roots of the show
Wally Badarou - Fisherman (I-Theme)
Andréa Daltro - Kiua
Deadly Avenger - Black Rain
Kelly Lee Owens - S.O
Vangelis Katsoulis - The Slipping Beauty
Mdou Moctar - Amidini
Alemayehu Eshete - Alteleyeshegnem
Apples - Time For Me To Go
Banteay Ampil Band - The Vietnamese Have Invaded Our Country
Sharhabeel Ahmed - Argos Farfish
Guy One - Everything You Do, You Do for Yourself
Kondi Band - Geibai Gpanga Ne Gna
Vincent Ahehehinnou - Maimouna Cherie
TCP - Twonga
Ali Nuur - Unknown
Danan Hargeysa feat. Mohamed "Huro" Abdihashi - Uur Hooyo
Aamina Camaari - Rag waa Nacab iyo Nasteexo
Dur Dur Band feat. Sahra Dawo - Gorof (Elixir)
Miriam Makeba - Saduva
Msafiri Zawose - Nzala Urugu
Leila Gobi - Deidi Dadada
Derya Yildirim & Grup Simsek - Davet
Alogte Oho & His Sounds of Joy - Mam Yinne Wa
Hamad Kalkaba and The Golden Sounds - Lamido
Gökçen Kaynatan - Madimak
Cuneyt Sepetci - Gayda


Ouled Ben Aguida and Fatna Bent Lhoucine - El 3aloua (MFASP edit)
Hafese Halefaye - Track 7
M'Bamina - Watchiwara
Afous d'Afous - Tenere
Mamadou Kelly - l'Sagnagnote
Orchestra Baobab - Alekouma
Mahmoud Guinia - Side A
Original Action Group - Side A
Ko Shin Moon - Pashto/Karachi 2000
Don Bernini - Whirlwind
These Eyes - Soca Hustle
Tomorrow's People - Open Soul
Spirit Of Love - He's Alright
Job - Love Everything About You

Some loooong ones on this month (as in three-tracks-make-up-an-entire-hour-of-the-show long).

Sudan Archives - Oatmeal
Native Dancer - In Clouds (Slugabed Remix)
V.O. - Malunde
Ennanga Vision - Jaja (Grandmother)
Denis Mpunga & Paul K. - Veronika 02
Kondi Band - Thank You Mama
Ethio Stars - Yetentu Tez Alew (feat. Mulatu Astatke)
Sudan Archives - Come Meh Way
Thione Seck & Son ensemble - Bamba
Okoi Seka Athanase & Les Grands Columbia Du Peuple - Atto E Kokoin Manh
Pablo Lubadika - Ma Coco
Sunsum Band - Emmaa Bekum Mmarima
Okukuseku Band of Ghana - Odo bra
K. Frimpong & His Cubano Fiestas - Hwe hwe mu na yi wo mpena
Atakora Manu - Palm Wine Seller
Assalé (Best) - Ameniwa
Anos Band de Parakou - Boro non andou nan
Adjakpon Rockyves & L'Orchestre African Sunshine - Chérie Christine
Orchestre Black Santiago - Deka Wowo
African All Stars & Sam Magwana - Djamo Djamo
A. B. Crentsil - Ehurisi
Fela Kuti - You no go die unless you wan die


Afro goodness

Cheikh El Meskine - Maktoub Rabi
Unknown - Gumbira
Enyd - Mizik
Cheikh El Meskine - Fatma El Hob Saib
Unknown - Badju merah muda
Yilma Hailu - Unknown
Filany - Dambe
Bintou Sidibe - Samba Dian
BAABA MAAL - Fa Laay Fanaan
Woubeshet Feseha - Track 5
Ferry Djimmy - Carry Me Back
The Funkees - Dancing Time
Mahmoud Guinia - Side A
Ouobraogo Charles - Zâmsdo
Penny Penny - Ingani
Ndiogou Seck - Interesse +
Prince Khonjo 99 with Midzi Heritage Sound - Binadamu
Mokhosi - Mokhosi
Moussa Doumbia - Yeye Mousso
Sawt El Jamal - Side 1
Hafese Halefaye - Track 6



Casiopea - Asayake
Lalo Schifrin - Middle of the Night
Jay-u Experience - Enough Is Enough
M Bamina - N'Zoumba
Brother Valentino - Ah Wo (Brand New Revolution)
Om Alec Khaoli - Crosslines
Zebra - Simple Song
Keither Florence & The Associates - Free
The Apostles - Banko Woman
Y. Gershovsky - Disco Baby
Jupiter & Okwess - Musonsu
Anubis - Ecology
Flipside - Music
Dazion - Be A Man
Lucas Arruda - Perdidos e bobos (Dub)
Arian - Sure It's Funky
Symbol8 - l Thought You Wanted To Dance (Shock version)
Talamanca Systemm - Ancona Ancona
Octo Champ - Make Heaven
I-Robots - Dirty Talk ft. Donna McGhee (Unreleased Dub)
Makadem, Behr - Nyako (Modified Man Remix)
Harvey Sutherland - Bermuda
Harvey Sutherland - Why Look Back?
Man Duo - One Formula
Kiasmos - Blurred

NGL this show slaps
Lee Ritenour - Countdown
Shintaro Sakamoto - Mask on mask
Tony Sinclair Orchestra - Walkin through the night
Noriyo Ikeda - Love is like a party
Afacan - Dost sevgisi
Al-Yaman - Dunya
Deodato - Keep it in the family
George Kamm - 矢野顕子
Maria Takeuchi - Plastic love
Nightlife Unlimited - Just be yourself
OPM - City life
MMT - Denizalti Ruzgarlari
Paralel Disko - Panayir Gunu
The Paradise Bangkok Molam International Band - Lam San Disco
Tiago - Track 2
Paul Bennett - Although sometimes appear
Suzanne Kraft - Skype
Hotel Lauer - Tamzarian
Statue - Jade
Harvey Sutherland - New paradise
Naduve - A trip in Tel Aviv (Man Power remix)
Boryn - The same (Loz Goddard remix)

Sounds of summer
Okukuseku International Band of Ghana - Awurade kasa
Super Djata Band - Worodara
Ethio Stars - Kermosew (feat. Mulatu Astatke)
Vincent Ahehehinnou - Maimouna Cherie
M'Bamina - Benguela
Osibisa - Ove Mama
Idrissa Soumaoro et L'Eclipse de L'Ija - Fama Allah
Mamadou Kelly - l'Sagnagnote
Orchestra Baobab - Fayinkounko
Michel Boyibanda - Monge alel' okondji
Noble Adu Kwasi & his Sweet Sound International Band of Ghana - From-from
ldris Ackamoor & The Pyramids - Tinoge Ya Ta'a Ba, Pt. 1 & 2
Shadow - Way, Way Out
Odion Iruoje - Love Care
Okoi Seka Athanase & Les Grands Columbia du Peuple - Melokon Mebun Ou
Ihsan Al-Munzer - Come My Love
Shar Habeel - El Bambi (Soudan)
Sahra Axmed, Jubba, Axmed Mooge - lyo Aamina C laahi
Al Massrieen - Sah
Goldfinger Doe & BMS - B.M.S
David Afrofunk - Hotline

Back to the roots of the show
Vaudou Game - Cherie nye
Shar Habeel - Dance and cheer (Soudan)
Polisario - untitled
Ziad Rahbani - Final theme
Mamman San - Zaybanakoy
Fairuz - Al Bostah
Ihsan al Munzer - Jamile
Nemesy - Arabian Sacrifice (Arabian Version)
Ihsan al Munzer - Mountain girl
Tumblack - Chunga funk
International Soleil Band - Ta lassa
Symbol 8 - Call me
Kabbala - Yo yo dance
Babette - Discotheque
Setenta - Funky tumbao
Francis The Great - Look up in the sky
Auguste Solo - Decale
Spirit Of Love - The power of your love
Ebo Taylor and Pat Thomas - Eye Nyam Nam A Mensuro (Henrik Schwarz Blend)
T.P. Orchestre Poly-Rythmo & Antoine Dougbe - Vio Se Gan
Mdou Moctar - Anar
Hama - Ataraghine
Guelewar - Sama Yaye Denna N'Darr

Claude Rodap - Zouklove (Martinique)
Shankar Ganesh Featuring Vani Jairam - Cola Cola Coca Cola (India)
Vytas Brenner - Caracas Para Locos (Venezuela)
Disco Blaze - Hear The Musik (Nigeria)
Friction Band - Watchin' You (USA)
Al Etto - Hold on to Love (South Africa)
Calvin B. Rhone - I Believe (USA)
Phil Gerus - Make Time (Russia)
Voilaaa - African Music (feat. Doctor Lass) (France)
Pat Les Stache - Bamboo Boogie (USA)
Lee McDonald - I'll Do Anything For You (Patchworks remix) (USA)
Pasteur Lappe - Na Real Sekele Fo'Ya (Cameroon)
Michael Boothman - Waiting for Your Love (Trinidad)
Moullinex - Love Love Love (Portugal)
Charlie Brown Superstar - Body & Soul (USA)
Mr Given Raw - Shake Raw Cut (USA)
Andromeda Orchestra - Take Me High (Rudy's Midnight Machine Mix) (Germany)
Vaudou Game - La Dette (Togo)
Ziad Rahbani - Abu Ali (Lebanon)
Psychic Mirrors - The Bells Of Saint Christopher (USA)
Abdou El Omari - Zifaf Filfada (Morocco)

More house-y than usual
Micky & Joyce - Missa Criolla 79 (Italy)
lsh - Faster than a speeding bullet (USA)
Yukihiro Takahashi & Metafive - Drip dry eyes (Japan)
Loui$ - Pink Footpath (Italy)
John Gibbs - Jouvert (USA)
Kongas - Anikana-O (Tom Moulton mix) (France)
Voilaaa - Spies are watching me (France)
Javaroo - Breakin In (UK)
Linda Taylor - You and Me Just Started (USA)
Sigma Fay - Tonight (Greece)
Maryann Farra & Satin Soul - Never Gonna Leave You (USA)
Tomorrow's People - Hurt Perversion (USA)
Livy Ekemezie - Holiday Action (Nigeria)
Tatsuro Yamashita - Nostalgia of Island (Japan)
Rick Asikpo & Afro Fusion - Too Hot (Nigeria)
Unknown - Ritual Dance
Coyote - Fight The Future (Clandestino Bonus Afro Dub) (UK)
PARC - Silk Road (Canada)
Sage Caswell - Take A Day Call Back Later (USA)
Golden Retriever - Neo Turf Masters (Sweden)
Salty Miller - The Good Time Song (USA)B

Bit of a party-time show this one. Starts big, doesn't let up.
Dur Dur - Shelede (Somalia)
Ahmed Fakroun - Love words (Libya)
Mustafa Al Sunni - Al Laylah Maja (Sudan)
Assa'd Khoury - Al Ghaba (Syria)
Nasser Mizdawi - Grape tree (Libya)
Tsvia Abarbanel - Wings Of Love (Yemen)
Googoosh - Makhloogh (Iran)
Ahmed al Mustafa - unknown (Sudan)
Ahmad Al Indibat - Bye, Bye, Bye (Iraq)
Dur-Dur Band - Hak Somalk Durmak (Somalia)
Dur-Dur Band - Garsore Waa Ilaah (Somalia)
Sahra Dawo (Dur-Dur Band) - Is Yeelyel (Somalia)
Dur-Dur Band - Juba Juba Aaka Aka SholoLob (Somalia)
Khadija Qalanjo - Diriyam oo Diriyam (Somalia)
Iftin - Haka Yeelin Nacabkeenna (Somalia)
Googoosh - Talagh (Iran)
Ahmed Fakroun - Nisyan (Libya)
Nasser el-Mizdawi - unknown (Libya)
Ibrahim El Hassan - unknown (Sudan)
Omar Souleyman - Leh Jani (Syria)
Farsin - Khoda Hafez (Iran)
Khadra Daahir - Cige (Somalia)
Ayoub Tarish - unknown (Yemen)
Kambiz - Bi Vafa (Iran)
Khadra Daahir - Yabaal (Somalia)
Ja'afar Hassan - Palestinian (Iraq)
Manouchehr Sakhaei - Labe Darya (Iran)
Saeed - Avenue of Love (Iran)
Kourosh Yaghmaei - Havar Havar (Iran)

Music From A Muslim-Majority Place

This show was all music from countries on Trump's racist 'travel ban' list.
Because fuck that guy.
Riz Ortolani - Drinking coco (Italy)
Odion Iruoje - Love Care (Nigeria)
Salvation - Ist es wahr? (Germany)
Kreis - Phillys tanz (Germany)
Il Guardiano Del Faro - Male d'amore (Italy)
Michael Boothman - Waiting for Your Love (Trinidad and Tobago)
Kio Amachree - Ivory (Nigeria)
Greg Henderson - Dreamin (USA)
Bayo Damazio - Listen to the Music (Nigeria)
Rajie - Hold me tight (Japan)
Babette - Reves Vos Belles Histoires (France)
Corine - Pourquoi Pourquoi (France)
Naoya Matsuoka & Hidefumi Toki - Night Trip (Japan)
Tony Grey - You Are the One (Nigeria)
Al Etto - Hold on to Love (South Africa)
Shadow - D'Hardest (Trinidad and Tobago)
Umm Kulthum - Habibi (Jarreau Vandal Remix) (Egypt)
Illa Iyaraaja feat. Kamal Hassan - Vikram Vikram (India)
V.O - Malunde (South Africa)
Shan - Anbil Valarnthai (Sri Lanka)
These Eyes - Soca Hustle (Trinidad and Tobago)
Guelewar - Sama Yaye Denna N Darr (Senegal)
Veno - Groove I Like (Nigeria)
Freedom Family - Yensuro (Nigeria)

Starts with a tune from the Cannibal Holocaust soundtrack, ends with some of the tightest Nigerian AfroFunk.
Jonah Moyo and Devera Ngwena - Huyai mose (Zimbabwe)
Demos Deniran & The Luko Resurgento - Olofofo (Nigeria)
Criolo - Bogata (Brazil)
Banda Black Rio - Caminho da Roça (Brazil)
Emel - Ensen Dhaif (Tunisia)
Hal Singer & Jef Gilson - Chant Inca (USA)
The Daktaris - Eltsuhg Ibal Lasiti (USA)
Dexter Story - Be My Habesha (USA)
Nino - Benim de kanim (Libra discotheque edit) (Israel)
Prins Emanuel & Golden Ivy - Hidden love (Sweden)
Buari - Koko si (Ghana)
Kenji Omura - Yumedono (Japan)
Makoto Matsushita - One hot love (Japan)
Mai Yamane - Tasogare (Japan)
Red Bus St Project - Electric City (Japan)
Ahmed Fakroun - Love words (Libya)
Tasaday - E... (Italy)
The Roger Webb Sound - Moon Bird (UK)
Violeta Parra - Arriba Quemando El Sol (Chile)
Gigi Masin - The Song Of The Masked Man (Italy)
Bebi Dol - Mustafa (Yugoslavia)
Zerosen - Sunrise (Japan)
Di Melo - Pernalonga (Brazil)
Alain Goraguer - Au Delà De La Peur (France)
Adam Best - I'm A Man (UK)
Keyboard - Hungry Man (Nigeria)
Bella Bellow - Awoula (Ghana)
Woubeshet Feseha - Track 2 (Ethiopia)
Gnonnas Pedro & His Dadjes Band - La Crocatuba (Nigeria)
Kin-Bantou - Bandoki pt.1 (DRC)
Carlos And Miki - Natural woman (Nigeria)

This one's all over the shop and I dig it
Piero Umiliani - Nostalgia (Italy)
Vivian Copeland - He Knows My Key Is Always In T (USA)
Ann Peebles - Run Run Run (USA)
The Beach Boys - She knows Me Too Well (Vocal Session Highlight Instrumental Mix With Backing) (USA)
Pierre Dutour - Deer Forest (France)
Marvin Pontiac - Small Car (USA)
Yundi - Chopin Prelude no.1 "Raindrop', op.28 (China)
Brian Eno - An Ending (UK)
Scott Fraser - Ancient Gates (UK)
Haruomi Hosono / Tadanori Yokoo - Hum Ghar Sajan (Japan)
Bappi Lahiri - Title Music (India)
Baby Doll - Udi Baba (India)
Bappi Lahiri - Aafat (India)
Nazia Hassan - Aap Jaisa Koi (Pakistan)
Bappi Lahiri and Amit K. - Karate (India)
Kishore Kumar - Disco 82 (India)
Kalyanji Anandji - Na Na Na, Yeh Kya Karne Lage Ho (India)
Nazia Hassan - Boom Boom (Pakistan)
Tansu - Kime Sormali (Kurt Adam Edit) (Turkey)
Müslüm Gürses - Yıllar Utansin (Kozmonotosman rework) (Turkey)
Biddu Orchestra - Eastern Journey (Kozmonotosman rework) (India)
Harvey Mason - Going through the motions (USA)
Kemayo - Kag Am (Cameroon)
Shohreh - To Ke Nisti (Iran)
Raf - Self Control (Italy)
The Twins - Face to Face, Heart to Heart (Germany)
Pierre Cavilli - Chase a l'homme (Switzerland)

Indian Disco mini-mix after a very chilled start
Roy Lee Johnson - Boogaloo No. 3 (USA)
Fikret Kizilok & Tehlikeli Madde - Aybatti (edit) (Turkey)
Abahambi - Abahambi (South Africa)
Omar Khorshid - Raksat El Kheyl (Egypt)
Ahmed Fakroun - Njoom Al Leyel (B5 Tighten Up edit) (Libya)
Djanka Diatbate - Acoco (Ivory Coast)
The 57th Parallel - Psalm Fifty Seven (UK)
Classix Nouveaux - 623 (UK)
Car Crash Set - Fall From Grace (New Zealand)
Alexander Robotnick - Problemes d'Amour (Francois K edit) (Italy)
Masami Takashima - Cosmic Sea (Japan)
The System - Find it in your eyes (UK)
Man Parrish - Techno Trax (USA)
Aïcha Tachinwite - unknown (Morocco)
Michal Turtle - Spooky boogie (UK)
Assane Thiam - Li tama di joy wax la (Senegal)
Bob Holroyd - African drug (Four Tet remix) (UK)
Osamu Kitajima - Masterless Samurai (Japan)
Mikael Seifu - Drkness Iz (Ethiopia)
Anchorsong - Silver lining (Japan)
Diana Ross - It's my house (USA)
Gaussian Curve - Impossible Island (Italy/Holland/Scotland)
Billy Cobham - Heather (USA)
Teresa Noda - Tropical love (Japan)

Spooky vibes
Kishi Bashi - Say yeah (USA/Japan)
Anri - Remember summer days (Japan)
Junko Ohashi - I love you so (Japan)
Hiroshi Satoh - Sweet inspiration (Japan)
Toshiki Kadomatsu - If you wanna dance tonight (Japan)
Toshiki Kadomatsu - Hatsu Koi (Japan)
Toshiki Kadomatsu - Never touch again (Japan)
Toshiki Kadomatsu - Take me far away (Japan)
Toshiki Kadomatsu - Maybe it's love affair (Japan)
Toshiki Kadomatsu - 52nd street (Japan)
Keiko Myrah Tohyama - Suketi na inspiration (Japan)
Kimiko Kasai - Celebration (Japan)
Yukihiro Takahashi - Flashback (Japan)
Miharu Koshi - Parallelisme (Japan)
Unknown - Body snatchers (Japan)
Taeko Onuki - Carnaval (Japan)
Yellow Magic Orchestra - Tong poo (Japan)
Miharu Koshi - Scandal night (Japan)
Mariko Tone - Broken eyes (Japan)
Kana - Sunday Brunch (Japan)
Hiromi Iwasaki - Street dancer (Japan)
Haroumi Hosono, Shigeru Suzuki & Tatsuro Yamashita - unknown (Japan)
Voom - unknown (Japan)
Tomoko Aran - Midnight pretenders (Japan)
Anri - Last summer whisper (Japan)
Ginji Ito - unknown (Japan)

Japanese funk/disco special
(recorded live from Market House, Brixton)
Scott Walker - The summer knows (USA)
Michael Naura & Wolfgang Schluter - Argentina (Germany)
Velly Joonas - Stopp Seisku (Estonia)
Rosana - Alegria no ar (Brazil)
Diane Tell - Je suis en amour (Canada)
Fox - The juggler (USA)
Pete Brandt's Method - What you are (UK)
Charles Veal - If you ever need anybody (USA)
- unknown
Boris Midney - D-D-D-Dance (Alternative Mix) (Russia)
Bandelero - Paris Latino (France)
Hype Williams - But Life Goes on Nahmean (USA)
Brian Sands - Baby You're a Rich Man (USA)
Kristal - Ete super (France)
Curtis Mayfield - Trippin' out (USA)
Captain Beefheart - Observatory crest (USA)
Minako Yoshida - Town (Japan)
Saada Bonaire - You could be more as you are (German)
Yurie Kokubu - Just a joke (Japan)
Taja Sevelle - Your Love is Contagious (Dub Mix) (USA)
France Lise - Pour moi ça va (France)
unknown - Chopin Disco
- unknown
Cloud 7 - Keep on Tryin (Nigeria)
H. Andrews and Company - Steppin out (USA)
Holger Czukay - Heybabareebo (Germany)
Kamel Messaoudi - Ya dzaier (Algeria)
Noor Jehan - I am very sorry (Pakistan)

Shuya Okino - Still in love (Japan)
Seaside Lovers - Evening shadows (Japan)
Dionne Warwick - We can work it out (USA)
Brenda Russell - A little bit of love (USA)
Evie Sands - You can do it (USA)
Tullio De Piscopo - Stop Bajon (Italy)
Kolbe, llenberger and Dauner - Fun trango (Germany)
Len Leise - Stars for Jorge (Australia)
Tatsuro Yamashita - Storm (Japan)
Com Truise - Cyanide Sister (USA)
Michal Turtle - Astral decoy (UK)
Galaxians - Brace yo'self (UK)
Jex Opolis - DZE (Canada)
Linx - Tinseltown (UK)
Elizabeth Wolfgram - Sparkle (USA)
Tavares - She's gone (USA)
Warfield Spillers - Daddy's little girl (USA)
Lonnie Smith - It's changed (USA)
Eddie C - Free love (Canada)
Jakarta - San Je Jak (Komplets edit) (Serbia)
Be - Nocturnal Jam (UK)
Linda Law - All the night (33rpm) (USA)
King Ericsson - Space Queen (Bahamas)
Gary Byrd & the GBE - The Crown (USA)

Jose Feliciano - California Dreamin' (USA)
Afrobot - Indian reggae (Holland)
Sam Fan Thomas - Poma (Cameroon)
Devera Ngwena Jazz band - Solo na mutsai (Zimbabwe)
Daniel Dimba - Prudence (Guadaloupe)
Patrick Mukwamba and the Four Brothers - Dai ndiri shirt (Zimbabwe)
Ekambi Brillant - Africa Africa (Cameroon)
Didier Beneni Duplin - Okuyi (Cameroon)
Orcestre poly rythmo de Cotonou - Malin kpon O (Benin)
The Whitefield Brothers - Safari strut (Germany)
Joni Haarstrup - Watch out (Nigeria)
Yambu - Hippopotamus (USA)
Originais do Samba - Tenha Fé, Um Lindo dia vai Nascer (Brazil)
Os Brazoes - Carolina, Carol Bela (Brazil)
Jorge Ben - Energia bom bom (Brazil)
Wganda Kenda - Tipit hayed (Colombia)
Moen - Bigharar (Iran)
Andy, Kouros, Shahram, Shohreh - Atish (Iran)
Leila Forouhar - Del ey del (Iran)
Jeffrey Osbourne - Soweto (USA)
Toure Kunda - Toure Kunda (Senegal)
Maurice White - Children of Africa (USA)
Atik-A - African disco special (UK)
Jaymz Bedford - Happy music (USA)
Andy Gibb - Shadow dancing (UK)
Anonymous edits 1 - A (UK)
Killer funk disco allstars - Feeling good (UK)
Ata Kak - Daa nyinaa (Ghana)

Terry Riley - A rainbow in curved air (intro) (USA)
Yehudi Mehuin & Ravi Shankar - Enesco (USA/India)
Earth, Wind and Fire - Brazilian rhyme (USA)
Haroumi Hosono & Tada - Hum Ghar Sajan (Japan)
John Kaizan Neptune and Mu'Ryo - Shogun (USA/Japan)
Allspice - Hungry for your love (USA)
Hugh Massekela - Fuzz (South Africa)
Intrinsic Trance - Hey policeman (France)
Dan-I - Monkey chop (UK)
George McCrae - You can have it all (USA)
Parlour - Disco ring (Sweden)
Tatsuro Yamashita - Dancer (Japan)
D'Angelo - Feel like makin' love (USA)
Debruit & Alsarah - Alkoan Baladi (France/Sudan)
Louise Markswoman Marks - Moving target (UK)
Daniel Dimba - C'est le vie (France)
Dunkelziffer - See it (German)
Jimi Tenor & Kabukab - Suite meets (Finland)
Edu Lobo - Caramealo (Brazil)
Ouiness - Zina (Morocco)
Lata Ramasar - The greatest one that ever lived (Adriano remix) (India)
Mall Grab - Can't (get you out of my mind) (Australia)
Moomin - Au bord de la mer (France)
Rita Lee - Saúde (Brazil)
DJ Steve - untitled (USA)
Puccio Roelens - Northern lights (Italy)
Blair - Nightlife (USA)
Lotti Golden - The space queens (USA)


Erkin Koray - Geliyor (Turkey)
Zia - Helelyos (Iran)
Necmiye Hanim - Your curly hair (Turkey)
Tsvia Abarbanel - Wings of love (Yemen)
Om Kalsoum - Hadeet Al Rouh (Egypt)
Ayla Algan - Aska Veda (Turkey)
Ahmed Fakhoun - Draho (Mudd edit) (Libya)
Kamuran Akkor - Ikimiz bit fidanizi (Turkey)
Saada Bonaire - You could be more as you are (Germany)
Mohammed El Bakker - Ya bakhita (Lebanon)
Fadoul - Kalam Al nass (Morocco)
Parva - Mosem-e gol (Iran)
Nadja Karam - Ala mahlak (Lebanon)
Arif Sag - Hudayda (Turkey)
Nancy Ajram - Shik shak shok (Lebanon)
Disco Fasil 4 - B1 (Turkey)
Senay - Doy Doy doymadim (Turkey)
Uclusu Aysegul Aldinc - Donme dolap (Baris K edit) (Turkey)
Tai - Schlager edit (Turkey)
Baris Manco - Vur ha vur (Turkey)
Nour Zein + Ghazwan - Ginak Phaih (Morocco)
Sezen Aksu - Akasyalar acarken (Turkey)
Zafer Dilek - Yekte (Turkey)
Nermin Candan - Hayat mi bu (Turkey)
Handan Kara - Kader bagladi bizi (Turkey)
Zafer Banu Hülya - Kara kara badem gözler (Turkey)


Turkish/Arabic special
Lette Mbulu - Mahlalela (South Africa)
Velly Joonas - Käes on aeg (Estonia)
Sonya Spence - Let love flow on (Jamaica)
Frann Golde - Isn't it something (USA)
Stephanie Mills - Try my love (USA)
Randy Crawford - My heart is not as young as it used to be (USA)
Gwen Guthrie - It should have been you (USA)
Evelyn King - I can't stand it (USA)
Carol Douglas - Carols theme II / In the morning (USA)
Gwen McCrae - Keep the fire burning (USA)
Roberta Kelly - Speaking my mind in his ear (USA)
Rose Royce - Funk factory (USA)
Donna Summer - Black lady (USA)
Nicole - Ordinary girl (USA)
Shannon - My heart's divided (USA)
Junko Yagami - Bay city (Japan)
Yurie Kokubu - Just a joke (Japan)
Yuko Kanai - unknown (Japan)
Akiko Kano - Rose garden (Japan)
Hitomi Tohyama - Love is the competition (Japan)
Minako Yoshida - Tornado (Japan)
Kaoru Akimoto - Dress down (Japan)
Miho Fujiwara - Eyes (Japan)
(Disco down) Venus Dodson - Shining (USA)
Grace Jones - Ladies & gentlemen: Miss Grace Jones (Jamaica)
Kate Bush - Love and anger (UK)
Minnie Riperton - Les fleurs (USA)


International Women's Day special.
Heavy US/Japan representation
Verckys - Mama djele
African Vibration - Hinde
Led revenants de Ouidah - Iquito
Erkut Taçkin ve kontrasalar - Mühür gözlüm
Ahmed Fakroun - Jama El fna
23 Skidoo - Urban gamelan
Batuk - Daniel feat. Nandi Ndiovu
Harmonious Theolonius - The grasshopper was the witness (Elmore Judd & Rowan Park remix)
Flamingods - Papaya (Happy Cat remix)
Henryk Debich - Z toba w gorach
Stephen Encinas - Disco Illusion
Sahara Band - Habibi
Soviet electronic - unknown
A Rodionov & B Tikhomirov - unknown
Klapto - Mister game
Laser - Laser
Pink Project - Amama
Soviet electronic - unknown
Raduga Payyra - unknown
Mirdza Zivere - Zozefino
Eolika - Falling stars
Ariel - unknown
Unknown - Bazaar scene
Vladimir Konovalov & Jazz Orchestra - The legend of Araratsky valley
Yuri Morozov - Neizyasnimoe
Mekanik Kommando - Stop and play
Transvolta - Disco computer part 2


2nd half is a mix of Soviet Disco
Hümeyra - Otuzbeş Yaş
Özdemir Erdoğan - Aç Kapıyı Gir İçeri
Donald Byrd - Cristo Redentor
Arovane & Hior Chronik - After Tomorrow
Anenon - Camembert
Rokia Traoré - Laidu
Celia - Blues
Star Number One - Maryaama
Kyeremateng Atwede & the Kyeremateng Stars - unknown
Toto Nécessité - Souvenir du cap
Peacocks International Highlife Band - Owum
Verckys - Sakumuna 2ème
Andres Landero Y Su Conjunto - La Pava Congona
Orchestre Black Dragons de Porto-Novo - Amon Mi Keledje
unknown - unknown
Danialou Sagbohan - Foutou Bananas
Pablo Lubadika - Idie
Eba Aka Jérome & Le Sanwi Star - Bolonan
T.P. Orchestre Poly-Rythmo - Karateka
Daniel Bechet - Sweet Stuff
The Brothers Nelson - unknown
Afrobot - Polydisco


Familiar territory on this one
feat. Japanese Funk mini-mix
w/ Radio Cascabel guest mix
feat. Turkish/Arabic mini-mix
If you made it this far, I applaud you.